home • veterinary services • surgery
Affordable Quality Veterinary Surgery
Eastgate Animal Clinic's experienced veterinarians have the knowledge and capabilities to perform veterinary surgical procedures at our clinic. Our surgical suite provides the latest in medical technology such as X-ray, ultrasound, and electrocardiography. We have extensive surgical experience, and a sample of our veterinary surgeries include:
Spay and neuter
Mass removal
Orthopedic procedures
Foreign body removal
Exploratory
Wound repair
YOUR PET'S VETERINARY SURGERY APPOINTMENT
We appreciate the unique bond between you and your pet and understand the stress and anxiety associated with a veterinary surgery. Our veterinary team will discuss your pet's surgical plan with you, including a cost estimate before surgery. We take every precaution to ensure the best possible treatment outcome for your pet. Your pet's surgical plan includes:
Physical exam
Pre-anesthetic blood testing
Pet X-rays or ultrasound, as needed
Pain management for your pet before and during surgery, and in recovery
Monitoring and care of your pet during surgery and recovery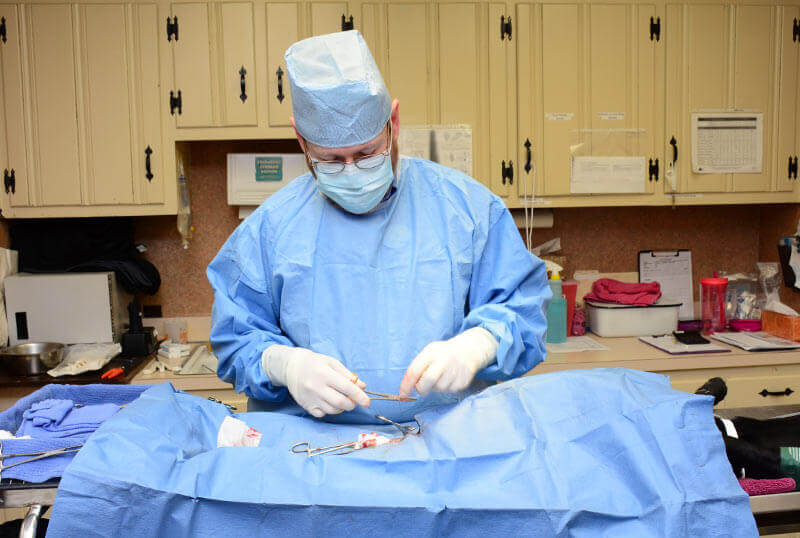 After a consultation with a veterinarian, pet drop-off appointments are available for surgical visits. On the day of surgery, you may check-in your pet for surgery in the morning, and we will keep you informed by phone on your pet's surgical status and recovery. For your convenience, you may also complete the surgical consent form in advance.
Please contact us to schedule your pre-surgical consultation. We understand this can be a stressful time, and we are committed to answering all of your questions and concerns.
Eastgate Animal Clinic, where loving care makes the difference.